The Contented Homemaker
Hello Everyone,
Lets chat for a bit. For as long as I can remember I have longed to be a homemaker. Sure there are a lot of girls who wish to grow up and have a huge career and make lots of money etc. But for me I have always wanted to be a wife and mother. Sound boring? Well I will tell you that the life of a wife and mother is far from boring and it is the highest calling that God has for a women. I have always longed to be like Caroline Ingalls and to live in a tiny house somewhere on the prairie. She was content where ever she was as long as she had God and her family. I want to raise my children as she did firm but loving. I want to honor and respect my husband for all that he is and does and to Glorify God in all that I do. Am I perfect? NO, I fall short in so many ways. The wonderful thing is that God molds me and makes me into what he wants me to be daily. We live in a day and age where so many women are not content and satisfied with life. Maybe its because as homemakers and mothers we are looked down upon. The life of a homemaker is not praised anymore and most people feel sorry for you that all you do is stay home and take care of kids. Well I want to share with you how to be content as a wife and homemaker! First of all your life is not yours it belongs to the Lord so seek him daily and ask him for guidance in your role as a wife and homemaker.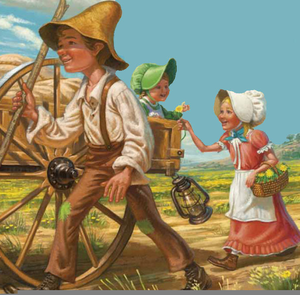 Five things I do as a wife and homemaker :
1# . I do not have facebook, twitter or instagram these are just time wasters and still your joy by making you want what others have instead of being content with the life God has given you.
2# Do not sit idle, make good use of your day have a routine and stick to it, make your bed, do laundry daily , clean your home and take pride in it for it is your castle that the Lord has given you.
3# Teach your children at home not just how to read and write and do math but how to care for their belongings and animals teach them to be useful members or their home an to take pride in it.
4# Make sure your home is inviting and dinner is always cooked for your husband when he gets home from a long day at work. It is his safe haven and he should want to come home to a peaceful atmosphere.
5# Remember to thank God for everything you have. I look around at my home and feel so blessed to have the things I have, it may not be new and it is probably used but it is well loved and I am so grateful for all of it.
So the next time you feel discontented with the life you live, look up to God and ask for contentment.
Here is what the word of God says about a women who fears the Lord: I strive to be the proverbs 31 woman although I fall short so many times. But I keep going and seeking the will of the Lord!

Proverbs 31:10-31
English Standard Version (ESV)
The Woman Who Fears the

Lord
10

[a] An excellent wife who can find?
She is far more precious than jewels.
11

The heart of her husband trusts in her,
and he will have no lack of gain.
12

She does him good, and not harm,
all the days of her life.
13

She seeks wool and flax,
and works with willing hands.
14

She is like the ships of the merchant;
she brings her food from afar.
15

She rises while it is yet night
and provides food for her household
and portions for her maidens.
16

She considers a field and buys it;
with the fruit of her hands she plants a vineyard.
17

She dresses herself[b] with strength
and makes her arms strong.
18

She perceives that her merchandise is profitable.
Her lamp does not go out at night.
19

She puts her hands to the distaff,
and her hands hold the spindle.
20

She opens her hand to the poor
and reaches out her hands to the needy.
21

She is not afraid of snow for her household,
for all her household are clothed in scarlet.[c]
22

She makes bed coverings for herself;
her clothing is fine linen and purple.
23

Her husband is known in the gates
when he sits among the elders of the land.
24

She makes linen garments and sells them;
she delivers sashes to the merchant.
25

Strength and dignity are her clothing,
and she laughs at the time to come.
26

She opens her mouth with wisdom,
and the teaching of kindness is on her tongue.
27

She looks well to the ways of her household
and does not eat the bread of idleness.
28

Her children rise up and call her blessed;
her husband also, and he praises her:
29

"Many women have done excellently,
but you surpass them all."
30

Charm is deceitful, and beauty is vain,
but a woman who fears the

Lord

is to be praised.
31

Give her of the fruit of her hands,
and let her works praise her in the gates.
and here is a verse about being a homemaker:
To be
discreet, chaste, keepers at home, good, obedient to their own husbands, that the word of God be not blasphemed.
Titus 2:5
I hope you find this post encouraging and you take pride in your home and role as a wife and mother. God Bless!